I was in shock today when i open the CNN and found out that Michael Jackson had died due to cardiac arrest.The world truely had lost a KING , may his soul rest in peace.
(CNN) -- Entertainer Michael Jackson died after being taken to a hospital on Thursday after suffering cardiac arrest, CNN confirmed.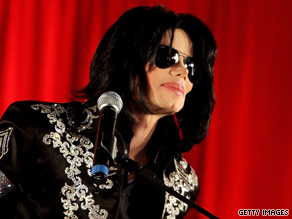 A Los Angeles fire official told CNN that paramedics arrived at Michael Jackson's home after a 911 call.
Lt. Fred Corral, the Los Angeles County Coroner said Jackson was pronounced dead at 2:26 p.m. Thursday.
He also said Jackson was unresponsive when he arrived at the hospital.
Brian Oxman, a Jackson family attorney, said he was told by brother Randy Jackson that Michael Jackson collapsed at his home in west Los Angeles, California, Thursday morning.
Family members were told of the situation and were either at the hospital or en route, Oxman said.
"I can only tell you that the family members are crying," Oxman said.
Fire Capt. Steve Ruda told CNN a 911 call came in from a west Los Angeles residence at 12:21 p.m.
Ruda said Jackson was treated and transferred to the UCLA Medical Center.
CNN Analyst Roland S. Martin spoke with Marlon Jackson, brother of Michael Jackson.
"I talked to Frank Dileo, Michael's manager. Frank told me that Michael last night was complaining about not feeling well. He called to tell him he wasn't feeling well.
"Michael's doctor went over to see him, and Frank said, 'Marlon, from last night to this morning, I don't know what happened.' When they got to him this morning, he wasn't breathing. They rushed him to the hospital and couldn't bring him around."
The music icon from Gary, Indiana, was known as the "King of Pop." Jackson had many No. 1 hits and his "Thriller" is the best-selling album of all time.
sourced from http://edition.cnn.com/2009/SHOWBIZ/Music/06/25/michael.jackson/index.html